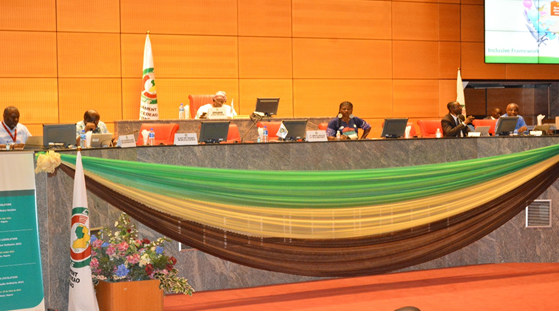 For Immediate Release
Friends of the Earth Africa (FoEA), the regional body of the world's largest grassroots environmental justice organization- Friends of the Earth International, (FoEI), will be meeting with the ECOWAS Parliament on December 7, 2023, to address a matter of utmost importance- the environmental impacts of industrial plantation expansion in West Africa.
Event Overview:
Date: December 7, 2023
Time: 3 pm to 5 pm
Venue: ECOWAS Parliament, International Conference Centre, Area 10, Garki, Abuja. Nigeria.
Subject: FoEA Delegation to Discuss the impacts of industrial plantation in West Africa with ECOWAS Parliament.
Delegation Members: The FoEA delegation includes FoE Africa member organizations, allies, impacted communities, and women from Ghana, Liberia, Nigeria, Sierra Leone, and Togo. These members bring critical insights into the environmental challenges faced by communities in West Africa due to deforestation and land grabbing for industrial plantation expansion.
Key Subjects of Discussion:
It addresses the significant deforestation caused by agro-commodities expansion and its consequences on local ecosystems as well as indigenous peoples and local communities.
Climate Change: Discussing the role of plantation expansion in contributing to climate change and exploring sustainable alternatives like community forest management and agroecology.
Biodiversity Loss: Highlighting the threat to biodiversity loss in West Africa and proposing measures to protect critical ecosystems.
Purpose of the Meeting: The FoEA delegation aims to engage with the relevant committees of the ECOWAS Parliament to:
Share findings on the environmental, social, and economic impacts of industrial plantation expansion in the region.
Discuss the role of ECOWAS member states in regulating and monitoring these expansions to ensure sustainable practices.
Explore potential policy frameworks and legislative measures that can address the negative consequences of industrial plantations.
Media Availability
FoEA representatives will be available for media interviews and questions following the meeting. A press conference is scheduled immediately after the session with the Parliamentarians to provide additional insights and responses to media inquiries.
Media Contacts:
Rita Uwaka, Forest and Biodiversity coordinator, Friends of the Earth Africa and Nigeria
riouwaka@gmail.com
(234) 08034553503
James Otto, Forest and Biodiversity steering group member, Friends of the Earth Africa
jotto@sdiliberia.org
Babawale Obayanju
Communication coordinator
Friends of the Earth Africa
owaleseun@gmail.com
Note to Editors :
Friends of the Earth Africa is a key advocate for social, environmental, and gender justice, representing 9 African member countries striving for a sustainable balance between economic development and environmental responsibility. We look forward to your participation and coverage of this significant event.
Friends of the Earth Africa is a regional chapter of Friends of the Earth International operating in n 74 countries around the world.