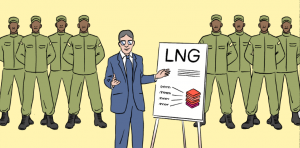 © Aurore Vegas, FoE Europe
This week, a report by the lawyers at Uprights was released, which does an analysis of TotalEnergies' Human Rights Due Diligence (HRDD) of the Mozambique LNG Project in Cabo Delgado. The HRDD, done by LKL Consulting in 2020, warned TotalEnergies that the violent conflict would continue, and that they were responsible for the safety of impacted communities in the area. TotalEnergies knew, but did nothing, and when the violent attack on Palma village took place in March 2021, which caused the company to announce a force majeure, it provided no security for the people it has impacted.
The HRDD also shows there is a major difference between what TotalEnergies' commitments are to upholding human rights and what it actually does in reality, such as not paying adequate compensation.
But the Uprights report explains how the HRDD itself has many problems:
"It is incomplete and flawed in many ways. Even the consultants say that the way they gathered information was 'insufficient'. It does not prioritise the armed conflict which is unacceptable when the project has been operating in a war since 2017, and does not show clearly the human rights impact of the project on the safety of communities in the conflict, and the impact on women. Civil society and communities waiting to be resettled were not consulted."
Financiers cannot rely on due diligence reports written by consultants who are paid by the companies. If this project restarts, it will be a disaster for communities, the planet, the climate and the Mozambican economy, and keep fueling the war that has displaced 1 million people and left thousands dead. Banks and governments have the power to stop Mozambique LNG, and they must use it!
You can read the full report here: https://friendsoftheearth.eu/publication/totalenergies-fails-on-human-rights-in-mozambique-lng-project/