03/12/2019
PROPOSED GAS POWER PLANT IN RICHARDS BAY HAS BEEN REFUSED ENVIRONMENTAL AND WATER APPROVALS
Plans for the proposed Nseleni Independent Floating Gas Power Plant in Richards Bay have been stymied by refusals of two of its licence applications by different regulatory authorities.
Nseleni's application for an environmental authorisation was refused on 19 November 2021, and the project's application for a water use license was refused on 25 November 2021.
Environmental justice group groundWork filed detailed objections to both licence applications. In the objection to the water use licence application, groundWork was represented by the Centre for Environmental Rights (CER).
The refusal of both applications marks a growing trend of success for community and civil society groups in setting aside regulatory approvals for not considering climate and other environmental impacts.
Nseleni Independent Floating Power Plant would be based off the coast of Richards Bay on two floating gas power barges, along with associated infrastructures such as an overhead power cabling bridge and power barge terminals. The project would add a whopping 6500MW of gas to the grid – despite the Integrated Resource Plan only making provision for 3000MW for gas.
"This project appears to be totally in disregard of the urgent need to phase out fossil fuels in the hopes of averting the looming climate crisis," says environmental justice group groundWork campaigner Avena Jacklin. "An outfit of this magnitude, with the scale of negative environmental and social impacts, simply doesn't make sense when renewable energy is available at a lower cost and with far less carbon emissions and negative environmental and social impacts."
"These refusals by authorities are important decisions that demonstrate how environmental and water authorities are exercising their legislative powers and duties to assess the significant environmental and climate impacts of these projects, and to require developers to meet Constitutional and environmental law requirements," says Michelle Koyama, attorney at the Centre for Environmental Rights.
"Large investments in gas developments like the proposed Nseleni plant pose significant risks of stranded assets, not to mention their ongoing pollution risks and significant climate impacts," says Gabrielle Knott, attorney at the Centre for Environmental Rights.
Both groundWork and CER are partners in the Life After Coal campaign. Other cases brought by partners in the Life After Coal campaign include:
The Thabametsi coal power plant case, in which Earthlife Africa secured a court order to set aside approvals for this climate intensive coal plant;
The Khanyisa coal power plant case, in which groundWork secured a court order declaring that the environmental approval for this power plant has expired;
The Deadly Air air pollution case brought by Vukani Environmental Justive Movement in Action and groundWork to declare the air pollution on the Highveld a violation of Constitutional environmental rights – awaiting judgment in the Pretoria High Court;
The Cancel Coal case, launched by the African Climate Alliance, Vukani Environmental Justice Movement and groundWork in November 2021, to set aside government's plans for the procurement of 1500MW of new coal power.
ENDS
Picture for use if deemed necessary: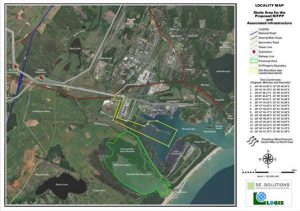 Arial view of proposed site of the NIFPP and associated infrastructure (Source  Sahris Scoping Report)
FOR EDITORS:
FOR MORE INFORMATION, OR TO ARRANGE AN INTERVIEW, PLEASE CONTACT:
Alexis Scholtz-Wheeler, ascholtzwheeler@lifeaftercoal.org.za, +27 (0)827398687
Life After Coal/Impilo Ngaphandle Kwamalahle is a joint campaign by Earthlife Africa Johannesburg, groundWork, and the Centre for Environmental Rights that aims to discourage the development of new coal-fired power stations and mines; reduce emissions from existing coal infrastructure and encourage a coal phase-out; and enable a broad and inclusive just transition to sustainable energy systems for the people. www.lifeaftercoal.org.za
groundWork is a non-profit environmental justice service and developmental organization working primarily in Southern Africa in the areas of Climate & Energy Justice, Coal, Environmental Health, Global Green and Healthy Hospitals, and Waste.
The Centre for Environmental Rights is a non-profit organisation and law clinic based in Cape Town, South Africa. As a group of activist lawyers, the CER helps communities and civil society organisations in South Africa to realise our Constitutional right to a healthy environment by advocating and litigating for environmental justice.
Earthlife Africa is a non-profit organisation, founded in Johannesburg, South Africa, in 1988, that seeks a better life for all people without exploiting other people or degrading their environment.